Investors leaving stocks, flocking to beach real estate
By Craig Levine
Spurred on by recent downturns in the stock market, hundreds of thousands of traditional equities investors have been building equity in a different investment vehicle, beach real estate. Coastal property has become an unusually hot commodity in recent years due to the tremendous appreciation exhibited in many areas of the country. Florida, for instance, has seen prices rising at an average rate of 15% for homes and condominiums within close proximity to the gulf of mexico. When you are talking about the rate of return offered by index funds versus real estate, the choice is clear. Not only are the returns better on coastal real estate, but it offers more benefits. Real estate can be depreciated, interest from mortgages can be deducted, expenses from operating a property can be used to offset income, cash flows can help to pay off a property in a much shorter time frame, and the owner can utilize the property for vacationing or to woo business/clients.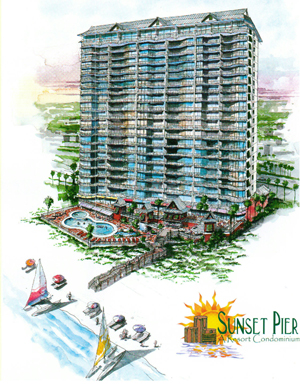 There are many options available to a second home or investment buyer now-a-days. Lots of people are opting for a traditional resale home or condominium across from the beach or directly gulf-front. The advantages of buying existing construction are a proven rental track record (in most cases) and the ability to lock in low present interest rates. A second option is to purchase new construction. Although these properties donít last long, a shrewd buyer can find some great deals on straggler units that have taken longer to move.
One of the best options available in todayís coastal markets is pre-construction hi-rise condominiums. All along the panhandle from Panama City Beach, Florida to Gulf Shores, Alabama, developers are erecting towering condominium resorts where vacant beach or mom and pop hotels once stood. These pre-construction units are selling so fast that on occasion, they are sold out only hours from release. Typically, though, a hi-rise will take anywhere from a week to 6 months to sell out. Most developers have floor plans and layout sheets that are made available to realtors for their clients to peruse. Once you have decided on the unit you would like, your realtor "reserves" that unit for you. A reservation typically will cost $5,000 and is refundable if you do not decide to go to "hard contract". Once a certain number of units have been reserved, the developer will have the purchasers convert to hard contract which essentially locks a reservation into a binding contract. At that point, a purchaser must come up with 20% of the purchase price to secure the unit. That 20% can be in the form of cash or 10% cash and 10% letter of credit from a bank. Closings will take place when the property is completed, usually 18 months after construction begins. The great thing about pre-construction is that these properties appreciate tremendously because of numerous price increases and appreciation of existing real estate. By the time you close, the property that you paid $300,000 for is consistently worth $375,000-$425,000. A return of over 100% on your invested money within 2 years. Returns are never guaranteed, but most pre-construction projects to date have been generating these types of financial windfalls, a leading reason why so many people are jumping on the band wagon.
Before you invest in any real estate, make sure to hire a reputable realtor who is experienced in 2nd home and investment real estate. Also, it may be necessary to talk with an accountant who can explain all of the financial benefits of owning 2nd home and investment properties. For more information or questions concerning coastal property, buying or selling a 2nd home or investment property, or to chat about the latest beach opportunities, call Craig Levine at 888-8-LEVINE or 678-898-4001.
Having been licensed since 1994, Craig Levine brings to your real estate deal a world of experience, cutting-edge technology, negotiating savvy, and exemplary service. With Century 21 in Atlanta, Craig was the #2 agent in the #1 office in Georgia in 1998, 1999, 2000, and 2001! He repeatedly received Century 21's highest honor, The Centurion Award, in each of these years. In 2002, Craig joined Re/Max Greater Atlanta, the Nation's #1 Re/Max office. Additionally, Craig got licensed in Florida to bring his arsenal of skills and resources into the Emerald Coast's 2nd Home and Investment market. Now, he wants to put his talents to work for you! Craig is an avid boater, golfer, traveler, biker, and reader. He has written for numerous print magazines including The Seasonal, The Gazette, Cobb Living, Cobbonline, The Cobb Times, Atlanta Nation, Cherokee Nation, North Fulton Nation, Gwinnett Nation, The Southeast Business Journal, Lake Lanier Herald, Revue and News, John's Creek Herald, Forsyth Herald, North Atlanta Business Post, as well as various online real estate related web sites. Craig is also frequently quoted in Georgia Realtor Magazine, Florida Realtor Magazine, the Atlanta Journal and Constitution, and the Atlanta Business Chronicle. Please visit all of his award-winning web sites: CraigSellsHomes.com, MyDestinHome.com, AtlantaHomesAtlantaRealEstate.com, AtlantaForeclosures.net, EchoMill.com, and AtlantaMansions.net